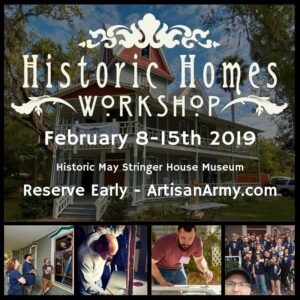 A special midweek post this week because I'm going to be teaching at the Historic Homes Workshop with some of my favorite preservation friends February 8-10 in Brooksville, FL. If you're sick of the winter weather why not spend a few days with me in the Florida sun learning how to restore old windows and plaster?
The workshop is organized every year by the grand window nerd himself, Steve Quillian of Wood Window Makeover, and is a staple of my annual workshop schedule because it's just so much stinkin' fun! Friday is the kick off party followed by a day of classes on Saturday about a huge variety of topics, then Sunday caps the whole thing off by working alongside professionals as we volunteer our time restoring a local historic landmark. Learning, practicing, and giving back to the community, that's what preservation is all about, right?
The week after the main workshop is reserved for more in-depth window related courses taught by Steve where you can learn sash making and how to start your own window business.
I'll be teaching about plaster repair on Saturday and then using Big Wally's Plaster Magic and Patching Plaster we'll be repairing an entire room of crumbling 1860s plaster. That will be tons of fun and a rare opportunity to learn hands-on how to deal with the challenge of plaster repair in an old house. I really hope you'll join me and comment below if you can make it!
Learn more and register by visiting Steve's website at ArtisanArmy.com
Here's the schedule details below:
Historic Homes Workshop  February 8-10
Friday, February 8, 2019       6:00 p.m. – 9:00 p.m.   Workshop Welcome Opening Ceremonies
Saturday, February 9, 2019   9:00 a.m. – 8:00 p.m.   Lectures, demonstrations and presentation from leaders in the historic preservation industry
Sunday, February 10, 2019      9:00 a.m. – 6:00 p.m.   Hands on Workshop – Pro's and Joe's, Introduction to Window Restoration
Artisan Workshop Series February 11-15
Monday through Friday 9:00 am – 4:00 pm
Total Window Makeover Course with Joe Hayes OR
Sash Maker Course with Steve Quillian
The post Plaster & Window Workshop appeared first on The Craftsman Blog.
Source: https://thecraftsmanblog.com/plaster-window-workshop/